Welcome to EXL Customs and Technology Group
AN INNOVATIVE CUSTOMS SOLUTION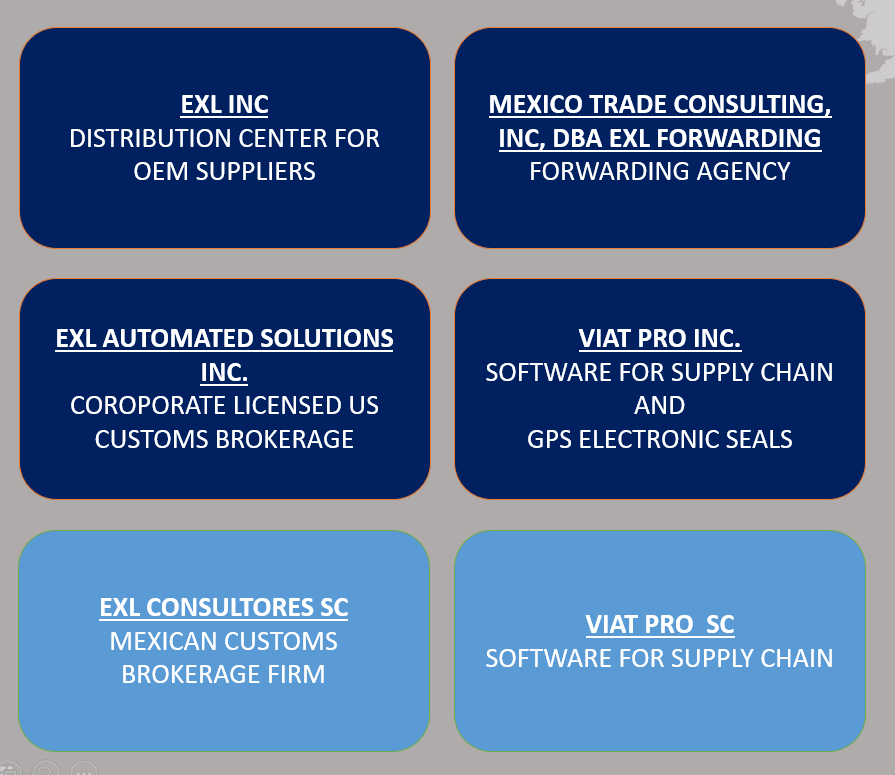 EXL Inc. was established in 2001.
Exl group employs a staff of approximately 180 employees.
EXL Automated Solutions, Inc.
Founded in 2015, EXL Automated Solutions, Inc, has broken the mold of a traditional U.S. Customs Broker. Through single-source data processing and the use of ViatPro, EXL takes the fiscal commercial invoice data file (xml), complements customer master part number data residing in ViatPro to generate both the Export Pedimento and US Customs Entry within seconds. It is the first company in the industry to fulfill EDI processing seamlessly and intuitively for our customers. A Corporate Licensed and Nationally Permitted company, EXL Automated Solutions, Inc has increased its footprint on the US Southern Border and beyond. It has brought US Customs brokerage processing into the 21st century, bringing second to none real time visibility, tracking and tracing, electronic recordkeeping, and EDI processing seamlessly and easily to its customer base. With over 25 years of technical and operational experience, its leadership brings sound solutions and compliance to the forefront. How EDI xml processing removes the human element from Entry creation. The same data set used to create the most important document presented to the Secretaria de Economia (SAT) is used to create complete both the export pedimento and Entry.
MEXICAN PORTS: NUEVO LAREDO, COLOMBIA, REYNOSA, CD. JUÁREZ, NOGALES, PIEDRAS NEGRAS, SAN LUIS POTOSÍ, ALTAMIRA, TAMPICO, VERACRUZ, LAZARO CÁRDENAS, MANZANILLO, MONTERREY, GUADALAJARA, CIUDAD DE MEXICO, LEÓN, RAMOS ARIZPE, MEXICALI, TIJUANA, PUERTA MEXICO, PANTACO
US PORTS: National permit allowed all of US ports of entry.